A place where every woman is made to feel like royalty.
We believe every women is a queen and should be treated like one. All our services and products offered are the latest and most cutting edge that is fit only for queens. We believe in offering only the best experience to all our clients, and once you enter Queens beauty lounge, partnered with Jacque la Coupe you will feel the experience in all our specially designed treatments offered. Why not be a queen for a day ….
Coco Chanel once said, "in order to be irreplaceable one must always be different." Inspired by the saying, Sakshi Nath throughout her career has demonstrated astonishing success as an entrepreneur.
After completing a Bachelors in Science and Masters in Fashion Design, Sakshi began her entrepreneurial journey, co-founding African Fish in Lagos with her husband, Bhupender Nath in 2000. Being part of various F&B and fashion projects, her fervent attitude for food and travelled was recognized. Further in 2013, she decided to bring life to her dream and started working on the concept.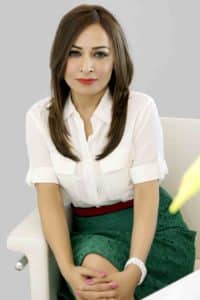 Originally of Indian descent, Sakshi was inspired and determined to promote the exotic flavours of her home country, in a revolutionary fine dining experience that would bring a modern twist to the traditional style, minus the guilt of a heavy meal. Thus, giving birth to a unique concept in progressive Indian cuisine, Sakshi Nath has been the driving force behind Tresind in Dubai.
After the success of Tresind, beauty was another aspect of lifestyle that interested Sakshi. She has always believed that it is very important to groom one's self, especially with the stressful lifestyle in a metropolitan city like Dubai. Sakshi decided to provide with a brand that would offer a wide variety of beauty services at affordable prices in Dubai. As the name suggests, "queens" she wants every girl to feel like that and treated like that and that is what she believes in. She is a proud owner of two outlets of queens beauty lounge spa & salons located in prime locations in Dubai like JLT and Marina walk.